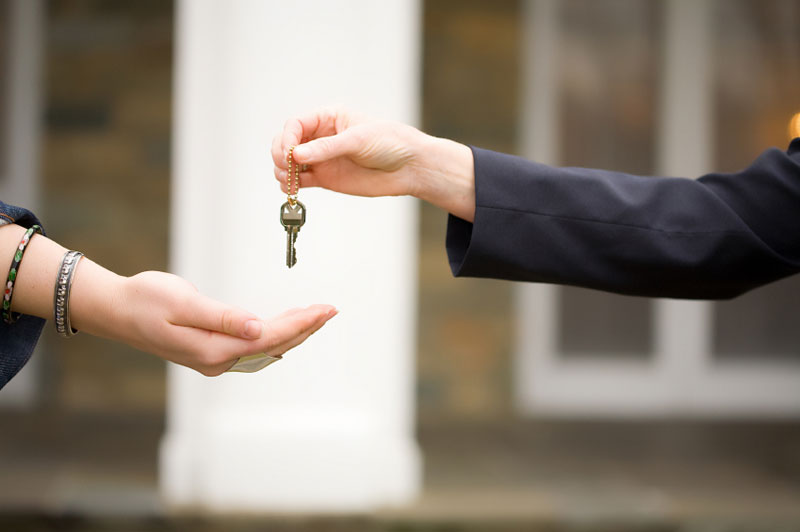 Your rental property is a very valuable asset. Entrust the management of that asset to an organization that offers you peace of mind. It might further ease your mind to know that we are fully insured and all of our fees are "performance based". If we don't rent the property, you don't pay our fee. If we don't collect any rent, you don't pay the management fee. The power of the internet has made it possible to reduce our management fees to as little as 10% of the monthly rent and still offer you very personalized service.
Our office hours are 9 AM to 5 PM Monday thru Friday. Plus we are always on call to handle any after hour's emergencies. It's easy for you to reach a live person, even on weekends and holidays.
Your property will be promoted in a variety of ways including listed on several different web sites. Our Marketing Specialists know their area intimately. They can help get your home rented more quickly to a qualified applicant.
Once we have an applicant we will perform a detailed background check which includes a credit check, look for a history of evictions, verify their landlord history and their current employment/source of income.
We provide monthly statements showing your income and expenses. You can choose between receiving a monthly check in the mail or be set up for direct deposit. Once the rent is deposited into our trust account, we will directly deposit the payment minus our service fees into your bank account.
We will also coordinate maintenance issues with you, follow up with the vendor and the tenant to make sure the job gets done promptly. But you won't be bothered with late night or weekend emergencies. We will handle those calls for you.
There are many more features and benefits related The Franks Team Property Management. So if you have a property that you want us to manage, please give us a call at 478-808-5532 and we will be happy to answer all of your questions. We look forward to working with you.
How long will it take to rent my property?
We will recommend a rental rate and terms that we think will attract a qualified tenant. Market conditions vary and we can't make any guarantees as to when we will get a qualified applicant. Some properties lease immediately, others take longer. Our fees are performance based. If we don't rent your property you don't have to pay our management fees. However, we are confident that we will rent your property within a reasonable time.
What is your service area?
We serve the entire Middle Georgia area, including Warner Robins, Bonaire, Kathleen, Centerville, Byron, and Perry. Please contact us if your property is located outside of this area, we will do our best to accommodate you.
Who holds the security deposit?
The security deposit is held in a trust account by Elite Realtors of Georgia, located at 104 Bluff Chase, Suite A, Bonaire, GA 31005.
How do you market my property?
All of the properties listed with Elite Realtors of Georgia are being advertised primarily online at most major national Real Estate websites. We also use yard signs and flyers to advertise your property locally. We analyze each property based on its own unique circumstances to design a specific marketing plan which promotes your property under the most favorable conditions.
How do you screen prospective residents?
One of the most important aspects of making your experience as a Landlord rewarding is placing the right tenant in your property. While no one can discriminate on the basis of race, color, religion, gender, age, national origin, or familial status we can make a determination on the basis of credit and rental history.
Once we have an application generated from our marketing efforts we conduct a detailed background check on the applicants. Some applicants can be very deceptive, even to the point of having friends or family members pose as former landlords or employers so that the information sounds good to the landlord conducting the background check.
To reduce the possibility of being deceived by an applicant we use a multi-tiered background check to cross-reference each applicant. Our background checks consist of a detailed credit report, employment verification including sources of other income, tax return information if the applicant is self-employed, and landlord/mortgage payment histories. We also perform a detailed background check on registered sex offenders and criminal background checks. While no background check can eliminate the risk of a problem tenant, our thorough examination of their rental history can significantly reduce your risk.
What are your fees?
Our fees are performance based – we only get paid if we rent your property to a tenant. Our fees include 50% of the first month rent and 10% of the rent amount for each month. The tenant makes all payments to Elite Realtors of Ga. The security deposit is maintained in Elite Realtors of Georgia's trust account. All rents and other payments are deposited into a separate trust account. We will deduct our management fee and any other expenses (repairs, etc.) that have been authorized by you and we send the balance to you.
What happens if the tenant does not pay?
Rent payments are due on the 1st of each month. In our lease form we give the tenant a 5 day grace period to pay the rent on time with the 5th of each month being the final day to make a rent payment without penalty. On the 6th we will automatically add a late fee for any tenants that have not paid yet. Also a late fee will be added for any tenants that pay their rent by check at our office.
Does retaining a management company mean I won't have any problems with my property?
NO! If you own rental property then over a period of time you will have problems of one sort or another. Whether the problems are related to maintaining the property or dealing with the tenant there will be problems that need to be resolved. Retaining Th Franks Team to manage your property will eliminate some but not all potential problems.
Our experience will help reduce the number of problems related to rental property. Those problems that can't be avoided must be solved. Our expertise will help reduce the aggravation and potentially higher expenses related to solving these problems. We can't keep all bad things from happening but we can handle solving the problem for you so that you don't have to handle it yourself.